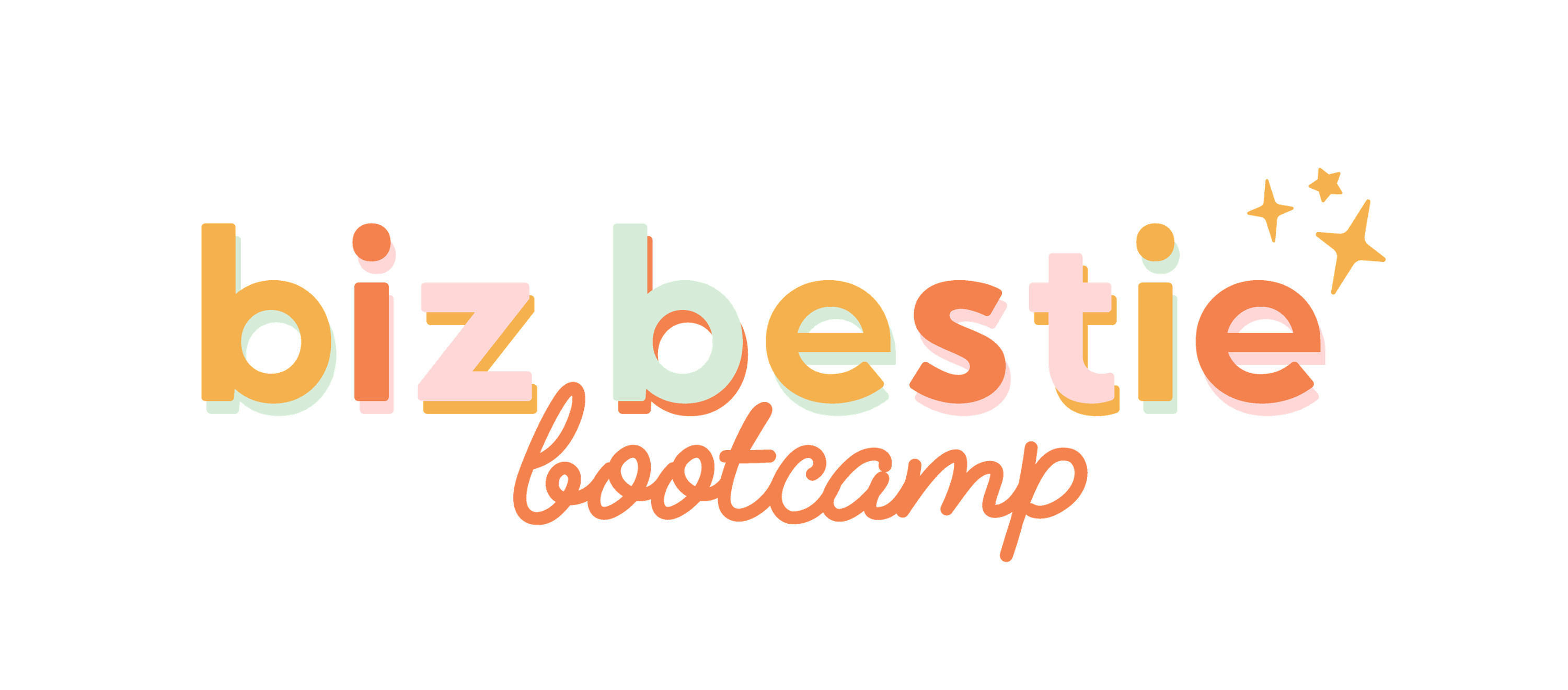 The Biz Bestie Bootcamp:
Get set for your sweetest year in business


Say hello to your biz bff.

The avo to your toast.
The Thelma to your Louise.
The servers to your Facebook.
Your ride or die.

Here to hold your hand in business, dress you in your SheEO pants, and help you nail your marketing, branding, and strategy for a sweet af 2022.

We'll spend 6 months together working on the very foundations of your business from idea generation to customer journey to maintaining a consistent brand people love and trust.

And by the end of it?

You'll have the confidence and momentum to smash your goals for 2022 and beyond.

---

Is it a course?
Is it a workshop?
No, it's a frickin' bootcamp, baby!


And just like actual bootcamp, you'll be expected to bring your A-game, commit to the process, knuckle down, and do the work (yes, drill sergeant!).

But don't worry, she's not all work and no love, and we promise we won't make you wear camo.

(Unless you love rocking a little camo, of course.
You do you, boo.)





P.S. It's not just a bunch of videos you'll forget to watch.



We know average rates for online course completion can be as low as 5-15%, which is why The Biz Bestie Bootcamp is like nothing else out there.


It's a 6-month, hands-on, supportive strategy experience that'll supercharge your success in a way that feels achievable and overwhelm-free.




The Biz Bestie Bootcamp is a place
where you'll feel supported and empowered
to take action in your business.
Action that'll get you to where you want to be.
Action that sprinkles your donuts.
Action that propels you forward.
It's a structured, actionable program where you'll learn invaluable skills and strategies via live masterclasses, live Q&As, guest speakers, interactive workbooks, and an exclusive Facebook community of like-minded business besties.
And we won't just throw the information at you.
We'll show you how to actually implement what you're learning as you learn it.
We'll be right there with you to explain every concept and help you unpack your brilliant ideas.
You in?

Planning the next 12 months
Time to develop your brand strategy - Where to start, what to focus on, and how to physically plan it

Mapping your customer journey
How to take your dream customer from zero awareness to brand fan

You've got the donuts, now let's sprinkle them! We cover everything you need to know to have a standout brand and packaging experience.

Email marketing & copywriting
Learn how to build an email list and market to it with on-brand words

Content marketing & planning
How to use content pillars to plan and repurpose content across platforms

Collabs, campaigns, product development and PR that's going to get you noticed!

Each month there'll be a live masterclass on our monthly topic, plus a live Q&A, live guest masterclass, interactive workbook, and virtual support via our Facebook group.

And it isn't one of those Facebook groups where the course facilitators don't get back to you.

We're going to be in the trenches with you, babe.

Supporting you, cheering you on, and helping you implement what you're learning in real-time.

It'll be the place you go to share your wins and challenges, collaborate with other business owners, bounce ideas around, and get practical advice and support from our team.

In fact, by the time the 6 months is over, we'll probably be besties.

So, what will the next 6 months look like?

In a nutshell? Sweet af.

We've jam-packed this baby with more than $5000 worth of biz-boosting goodness.

Each month, you'll get:
- An immersive workbook
- A live masterclass with Jess
- A monthly live Q&A
- A guest expert masterclass
- Bonus resources and tools to help keep you accountable
- Access to our Facebook community for ongoing support - think of this as your brains trust, your in-house marketing consultant, your go-to. We'll be online every day to answer your questions, bounce ideas around, and provide bonus resources.

- WHEN DO WE START?-

We officially kick off on 17 January, but our exclusive Facebook community will be open from the moment you enroll. We'll be sharing bonus resources and live sessions with Jess to support you on the road to 2022.

I have a business partner, can we both get access?

Absolutely! As long as you're both from the same business.

- WHEN WILL THE LIVE SESSIONS HAPPEN? -

Once the doors are closed and everyone has joined the Facebook community, we'll do a poll to make sure we capture the most convenient day and time for the majority of the group.

- HOW MUCH 1:1 SUPPORT WILL I GET? -

Jess and the Complete St team will be active in the Facebook community every day. Any questions you have throughout the entire 6 months can be asked there or emailed directly to Jess if it's something private. Think of it as having your own marketing team in your back pocket, but waaaaayyy more affordable, lol.


Known as The Business Bestie, Complete St is here to help no matter what stage of biz
ownership you're at.
Whether you're an established business or about to launch, we've got the knowledge and solutions to help you create a thriving brand people can't get enough of.
About Jess
Jess jumps head-first into your business as if it's her own, and has a knack of making sense of all those beautiful ideas buzzing around in your brain.
She's your biz bestie, your mentor, your sounding board, your brand bae.
Throughout the 6-month bootcamp, you'll have the kind of access to Jess that most businesses
can only dream of. She'll be clearing her calendar, hanging out with you in our exclusive Facebook community, and available via email whenever you need her.
Ready to have your own Biz Bestie? Take advantage of the first round pricing never to be seen again!
$999 inc GST
Pay upfront and save $$$!

$199 inc GST
Pay per month, for 6 months

Still sitting on the fence?
Not sure if it's right for you? Put your name and number below and Jess will give you a call to answer any questions you have!